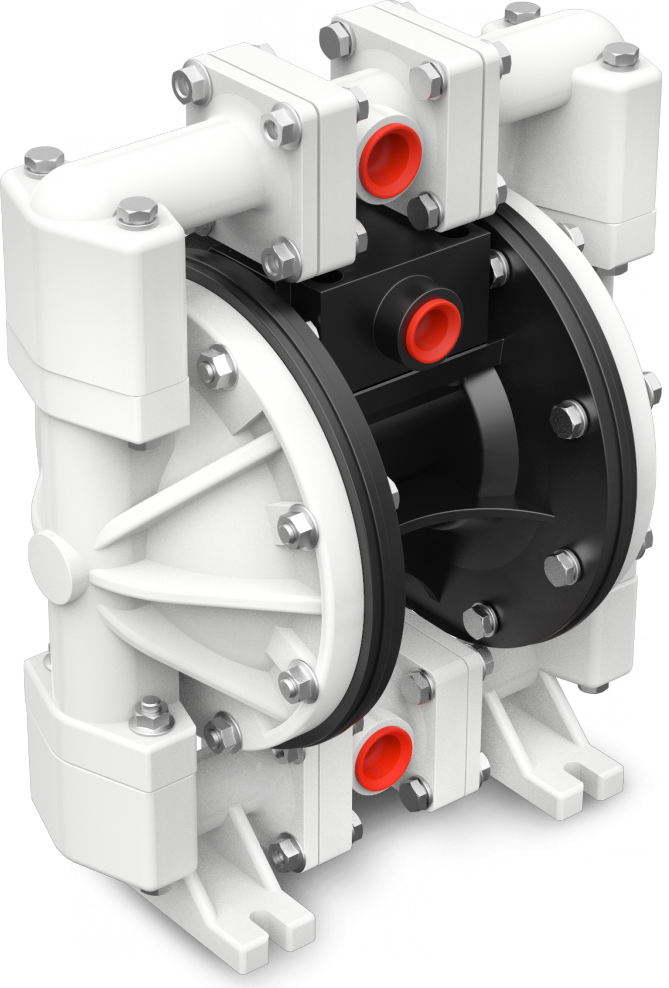 TM3-Series, Cost Effective Diaphragm Pumps
The TM3 pumps combination of high quality materials, efficient performance and competitive price makes this the ideal pump for today's industry.
Tecno-Matic TM3 pumps are made in aluminium, stainless steel & polypropylene executions.
The range of materials makes it easy to find a suitable pump for your needs.
| Product | max Flow Rate | Connections | Body Material | Selected Pressure | Max Temperature | formula | Calculated Flow Pressure |
| --- | --- | --- | --- | --- | --- | --- | --- |
| TM3-980 | 35.4 m³/h | 3" | Alu | chart-item2 | 130 °C | -1.029E-03*$postVol**2-5.137E-02*$postVol+6.031E+00 | 6.031 bar |
| TM3-980 | 23.4 m³/h | 3" | Alu | chart-item3 | | -2.464E-03*$postVol**2-1.361E-02*$postVol+1.976E+00 | |
| TM3-980 | 54 m³/h | 3" | Alu | chart-item1 | | -1.029E-03*$postVol**2-5.137E-02*$postVol+6.031E+00 | |
| TM3-530 | 29.4 m³/h | 2" | Alu,SST | chart-item2 | 130 °C | -1.679E-03*$postVol**2-7.903E-02*$postVol+3.986E+00 | 3,98 bar |
| TM3-530 | 17.4 m³/h | 2" | Alu,SST | chart-item3 | | -4.659E-03*$postVol**2-2.002E-02*$postVol+1.973E+00 | |
| TM3-530 | 35.4 m³/h | 2" | Alu,SST | chart-item1 | | -2.041E-03*$postVol**2-8.541E-02*$postVol+5.981E+00 | |
| TM3-50 | 2,7 m³/h | 0,5" | Alu,PP | chart-item2 | 130 °C | -2.441E-01*$postVol**2-7.196E-01*$postVol+4.003E+00 | 4 bar |
| TM3-50 | 2.3 m³/h | 0,5" | Alu,PP | chart-item3 | | -2.324E-01*$postVol**2-2.204E-01*$postVol+1.990E+00 | |
| TM3-50 | 3.5 m³/h | 0,5" | Alu,PP | chart-item1 | | -2.765E-01*$postVol**2-6.582E-01*$postVol+5.991E+00 | |
| TM3-240 | 10.8 m³/h | 1,5" | Alu,SST | chart-item2 | 130 °C | -1.537E-02*$postVol**2-1.637E-01*$postVol+3.996E+00 | 3,9 bar |
| TM3-240 | 7.2 m³/h | 1,5" | Alu,SST | chart-item3 | | -2.965E-02*$postVol**2-1.090E-02*$postVol+1.989E+00 | |
| TM3-240 | 14.4 m³/h | 1,5" | Alu,SST | chart-item1 | | -1.441E-02*$postVol**2-1.737E-01*$postVol+5.973E+00 | |
| TM3-130 | 6 m³/h | 1" | Alu,PP | chart-item2 | 130 °C | -5.858E-02*$postVol**2-2.620E-01*$postVol+3.991E+00 | 3,9 bar |
| TM3-130 | 5.2 m³/h | 1" | Alu,PP | chart-item3 | | -4.763E-02*$postVol**2-7.552E-02*$postVol+1.964E+00 | |
| TM3-130 | 7.8 m³/h | 1" | Alu,PP | chart-item1 | | -3.927E-02*$postVol**2-3.906E-01*$postVol+5.938E+00 | |
| TM3-100 | 4.4 m³/h | 0,75" | Alu,PP | chart-item2 | 130 °C | -1.010E-01*$postVol**2-4.115E-01*$postVol+4.020E+00 | 4,02 bar |
| TM3-100 | 2.6 m³/h | 0,75" | Alu,PP | chart-item3 | | -1.745E-01*$postVol**2-2.558E-01*$postVol+1.998E+00 | |
| TM3-100 | 8.6 m³/h | 0,75" | Alu,PP | chart-item1 | | -9.469E-02*$postVol**2-3.804E-01*$postVol+6.003E+00 | |
Choose system air pressure